EI Laminated Safety Isotaltion Transformer
Brand: OLEE
Product origin: Foshan China
Delivery time: 20 working days ( MOQ 500 PCS )
Supply capacity: 400000 sets per month
Ouli EI laminated safety isolation transformer are widely used in various UPS, audio, medical, lighting, automatic control, telecommunication, instruments equipment. it has function of anti-interference effect, impedance transformation, stabilizing the system voltage, preventing system grounding and reduce short-circuit current
Download:
EI Laminated Safety Isotaltion Transformer
Ouli EI laminated safety isolation transformer are widely used in various UPS, audio, medical, lighting, automatic control, telecommunication, instruments equipment. it has function of anti-interference effect, impedance transformation, stabilizing the system voltage, preventing system grounding and reduce short-circuit current
The materials used in the products have passed strict supplier qualification review and sample testing.
The product design combines the actual application and technical requirements of customers, from cost, structure, comprehensive consideration of craftsmanship, appearance, ease of installation and use, etc., to provide customers with the best design solutions.
Ouli complete production and testing equipment, quality control system, ERP management system, and professional sales team ensure our commitment of delivery and service quality to customers.
Ouli EI Laminated Safety Isolation Transformer
Features:
100% full power rate with copper design

Smaller size and lighter weight

Flexible design and construction

Higher efficiency

Lower magnetic field

Lower vibration and noise

Lower iron loss and temperature rise

Simple installation and disassembly

Manufacturing under ISO 9001, ISO 14001 and ISO 45001 certified Ouli facilities

RoHS & REACH Compliant

Manufacturing and testing as per EN61558, EN55014, EN61000, UL1446, UL5085 and Directive (EU)2015/863
Discription
| | |
| --- | --- |
| Input Voltage | 100V,110V,120V,127V,220V,230V,240V |
| Output Voltage | As Customer Requirements |
| Frequency | 50/60Hz |
| Power Rating | 50VA-5000VA |
| Winding Material | Copper or Aluminum |
| Insulation | Class B 130℃, Class F 155℃, Class H 180 ℃ and other as customer requirement |
| Safety Agency Approvals | UL, CE, RoHS, SGS, CQC |
| Standard | EN61558, EN55014, EN61000, UL1446, UL5085 and Directive (EU)2015/863 |
| Mounting Accessories | Screw(Bolt), Metal Disk, Rubber Washer(Gasket), Nut, Center Potted |
| MOQ | 100 PCS |
| Lead Times | 15~25 workding days |
| Payment | T/T, L/C |
| Service | OEM/ODM/Customize |
| Others | As Customer Requirements |
Example of Ouli EI Laminated Transformer Mounting Size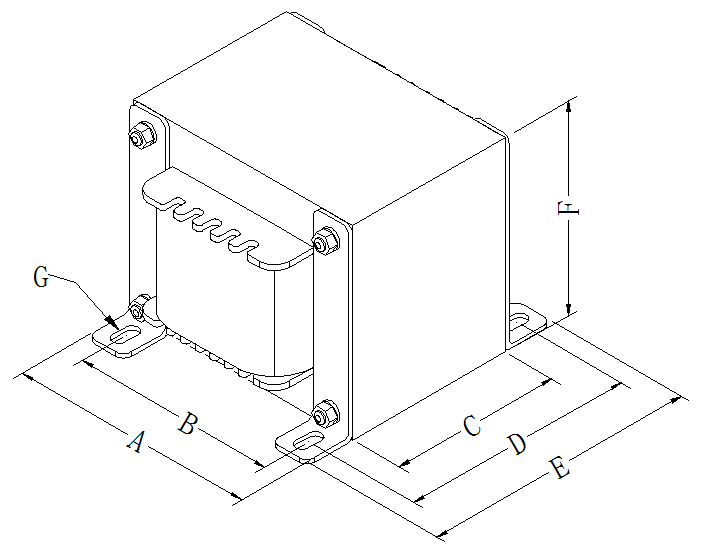 Al winding UNIT:mm
| | | | | | | | | |
| --- | --- | --- | --- | --- | --- | --- | --- | --- |
| Power | Type | A | B | C | D | E | F | G |
| 500VA/300W | EI86*36 | 86 | 71.5 | 36 | 60.6 | 78 | 73 | 5*10 |
| 800VA/480W | EI96*50 | 96 | 80 | 50 | 73.5 | 92 | 84 | 5*10 |
| 1000VA/600W | EI105*50 | 105 | 87.5 | 50 | 74 | 90 | 89 | 5*11 |
| 1500VA/900W | EI114*60 | 114 | 95 | 50 | 81 | 97 | 98 | 6*10 |
| 2000VA/1200W | EI133*60 | 133 | 111 | 50 | 88 | 105 | 113 | 6*11 |
| 3000VA/1800W | EI133*65 | 133 | 111 | 65 | 103 | 120 | 113 | 6*11 |
Cu Winding UNIT:mm
| | | | | | | | | |
| --- | --- | --- | --- | --- | --- | --- | --- | --- |
| Power | Type | A | B | C | D | E | F | G |
| 1KW | EI162*55 | 162 | 118 | 50 | 84 | 112 | 146 | 6*18 |
| 1.5KW | EI162*65 | 162 | 118 | 65 | 99 | 127 | 146 | 6*18 |
| 2KW | EI162*70 | 162 | 118 | 70 | 104 | 132 | 146 | 6*18 |
| 3KW | EI162*100 | 162 | 118 | 100 | 134 | 162 | 146 | 6*18 |